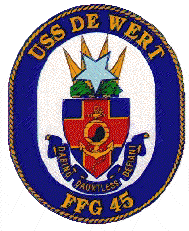 "Daring Dauntless Defiant"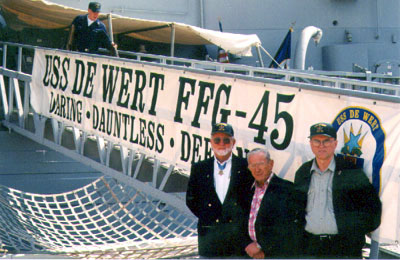 ---
16 February, 2000, Mayport, Florida

Visiting the DeWert, [Left to Right] Bob Ingram, a Corpman with Charley Co. 1st Bn, 7th Marines, Medal of Honor Recipient, Ed Garr, Capt USMC Retired and Korean War Vet with Dog Co. 2nd Bn 7th Marines, and myself.

---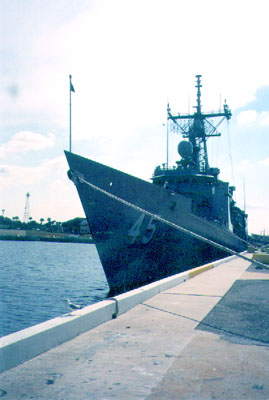 ---
In her Berth

The DeWert tied up at the pier in Mayport Florida.


---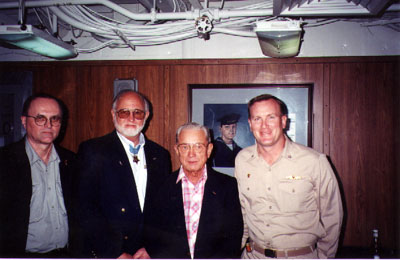 ---
Visitors and the Commanding Officer
[Left to Right] Myself, Bob Ingram, Ed Garr, and the ships Captain, Commander Shannon.

---
---
Topside Tour

We had the oppurtunity to tour the ship extensively from it's top decks to it's Combat Operations Center.

---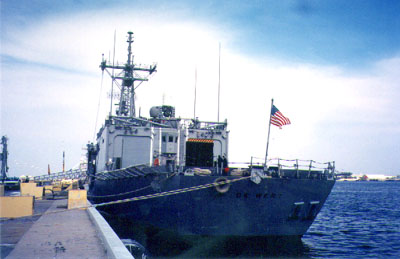 ---
In Gratitude

I would like to thank the Commanding Officer, Officers and all members of the DeWert's crew for their hospitality during our visit to a magnificent United States Frigate.

Victor Vilionis, 16 February 2000.



---
---

Back |